Notifications to your clients
Principle of client notifications
Netim has a contractual relationship with the Registries from which we source our services. In fact, some of them require standardised emails to be sent to domain name holders.
This tutorial will allow you to view and customise the signature of these emails.
Customise the signatures and the sending address
To access it:
Log in to your Netim Direct account
Click on your first and last name at the top right of the screen
Go to "Preferences"
Select the "White label" section from the drop-down menu at the top left
In the "Notifications to your clients" window, click on the "Customise" button
Once you have entered your changes, click on the "Update" button
You will then be able to enter the sending email address of your choice. This will be the address your customers will see when they receive notifications.
You will also be able to customise the two email signatures, in French and English.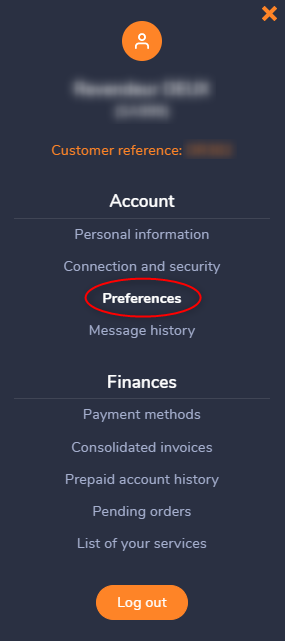 List of e-mails sent to your clients
In this second part, you will be able to see an overview of the emails sent, in English and French.
To access it:
Log in to your Netim Direct account
Click on your first and last name at the top right of the screen
Go to "Preferences"
Select the "White label" section from the drop-down menu at the top left
In the "Notifications to your clients" window, scroll down and select the notification to be displayed and then the version